We come with a new theme called "Gamers Time"
Here's are best first gamer theme.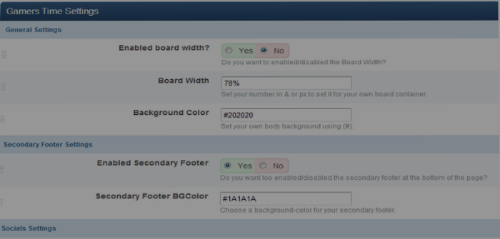 Settings:
We made some settings for this gamer skin because you always gotta have settings for gamers skins so we decided to make 10 settings for this skin. Look at the screenshot to see the settings I put on.

Socials Media:
We made an social media for you and your co-admins. We also made some settings for the social media. If you want more socials please reply to the support ticket.

Secondary Footer:
For Gamers people out their, we made a secondary footer so you can put affiliates, support links, gamers links, etc
I hope you like this wonderful gamers theme made by Michael Keith and socials medias by iconfinder
Question/Concerns:
Email: admin@themetree.net
Website:
http://www.themetree.net/
View Resource